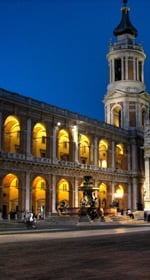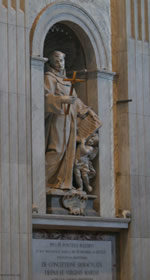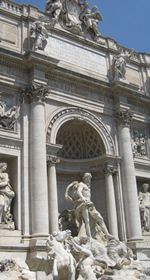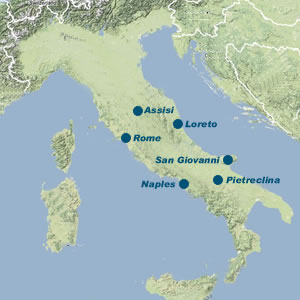 Shrines of Italy Pilgrimages

A pilgrimage to Italy is the perfect way to spend time learning about the lives of the Saints who are beloved by so many pilgrims worldwide. San Giovanni Rotondo, the Shrine of St. Pio of Pietrelcina, attracts approximately 8 million pilgrims each year.
Here, there is evidence of the love and dedication that pilgrims have for this Saint. See also his birthplace in Pietrelcina. Your pilgrimage will take you to Assisi where you can explore the quaint hilltop birthplace of St. Francis and visit his tomb. Both St. Pio of Pietrelcina and St. Francis are popular in the hearts of pilgrims for their devotion to God. In Mugnano del Cardinale we will visit the church of Our Lady of Grace to see the final resting place of St. Philomena. While in Cascia, which is popular due to St. Rita, we visit the Monastery where she lived for 40 years. Visit Rome, the eternal city and home to the head of the Catholic Church.

Shrines of Italy Programme



Please see below for a detailed description of the towns we visit in Italy. The programme below is only a sample programme. For specific dates and a detailed programme please see our price list.
Rome
Rome is an epic city, an open air museum with plenty of historical and religious sites to explore. St. Peter's Basilica is located here and it is said that the Basilica stands on the site where St. Peter was crucified and buried. The Sistine Chapel is famous for its breathtaking decoration and outstanding architecture. Between the 15th and 16th centuries artists such as Perugino, Botticelli, Ghirlandaio and Michelangelo had created beautiful frescos. Pope Francis also resides in this wondrous city.
Pietrelcina & San Giovanni
Pietrelcina, a highly religious town, is the birthplace of St. Padre Pio who is admired for his fervent love of Christ and the Virgin Mary. In 1916 he came to San Giovanni Rotondo and whilst here he was reported to have had possessed many inexplicable abilities. The most famous of these is the Stigmata he received in 1918 which caused him great suffering. St. Pio is credited with reconciling thousands of men and women back to their faith. He died in 1968 and was canonized by Pope John Paul II in 2002.
Lanciano & Loreto
In the 8th century a miracle occurred in the small, medieval town of Lanciano. A Basilian monk had been struggling with his faith. While saying Mass one morning in the Church of St. Legontian his faith was restored. As he consecrated the bread, the host changed to live flesh and the wine changed to blood. This is an ongoing miracle as the host flesh is still visible today in the same condition. In Loreto lies the Basilica of the Holy House. It is said to be the same house where Archangel Gabriel visited the Virgin Mary and where Jesus spent most of his life. In 1294, in Loreto, three shepherds witnessed the Holy House flying over the sea toward them with Our Lady and Baby Jesus visible. The Holy House settled in Loreto where it has stayed ever since. It has been a site of many miracles and cures over the years.
Assisi
St. Francis was born in 1181 to a wealthy family in Assisi. He lived a life of luxury and gaiety and is described as a charming, born leader. However, he wanted more from life. St. Francis began to preach to people about returning to God. He founded the Order of Friars Minor along with St. Clare and in 1211 the first Franciscan monastery was built. In 1224 St. Francis received the Stigmata. He died at the Porziuncola in 1226.
Pompeii
Located close to the Bay of Naples, this ruined and partially buried Roman town is a popular destination for many. It was here in 79 AD that Mount Vesuvius erupted destroying everything, including some of its residents, in its path. Few people fled but those who chose to remain were killed by falling buildings, toxic gases and ash. The ash perfectly preserved people, buildings and utensils until this town was rediscovered in the 18th century when the palace for the King of Naples was being built.
Cascia
St. Rita was born in 1381 in a village just outside of Cascia. She was forced into an arranged marriage, where her husband was a violent and cruel man but through St. Rita's prayers and affection, he was converted in time. However he was murdered by his enemies and soon after her two sons died of natural causes. St. Rita eventually entered the Augustinian nuns in Cascia. While there, she developed wounds on her forehead which were associated with the wounds Jesus received by the crown of thorns. This wound never healed and in 1457 she died aged 76. She was canonised in 1900 and is known as the Saint of the Impossible.
Mugnano del Cardinale
Mugnano del Cardinale is home to the shrine of St. Philomena. In 1802, the remains of a young woman were found in the Catacombs of St. Priscilla. The tomb was marked with three stones with the inscription, " Peace be with you, Filumena". Other inscriptions indicated virginity and martyrdom. It was found that the remains belonged to a young girl aged around 13 or 14. In 1805 the remains were moved to Mugnano where numerous miracles and healings started to occur. In 1837 Pope Gregory XVI canonised St. Philomena which is unusual as her canonisation is based on the miracles and healings experienced due to her relics.
Sorrento
Sorrento is a beautiful popular tourist destination located on the west of Italy. It is a town where the sea, mountains, valleys and nature collide. Sorrento overlooks the crystal clear waters of the Bay of Naples and faces west on to the Isle of Capri. We can take a day trip to the Isle of Capri which is famed by the blue lagoon which dazzles in turquoise blue. While in Capri we can take a chair lift to the summit to take in the spectacular views of the Bay of Naples. Back in Sorrento we can take some time to explore this charming Italian town and see the cafes, restaurant, galleries and architecture which make this destination so appealing.
Venice
Venice is a unique city, built on several islands and linked by many bridges. It is described by Napolean as the most beautiful dining room in Europe. The Square is dominated by St. Mark's Basilica, which dates back to the 9th century and is thought to be built to house the body of St. Mark the Evangelist. The architecture is connected to the adjacent Doges Palace. Rialto Bridge is the oldest bridge in the city. Until the 16th century, it was the only link between the two sides of the canal by foot. The bridge is crowned by two large central arches and is lined with shops and stalls selling souvenirs and jewellery.
Padua
St. Anthony was born in Lisbon, Portugal in 1195. He wanted to dedicate his life to God and was ordained in 1220. In 1222 at an ordination of Dominicans and Franciscans in Italy he gave a speech which turned out to be so powerful and full of knowledge and holiness that he was encouraged to travel Italy preaching the Gospel. It was during these travels that he arrived in Padua and fell in love with this city. In 1231, with his health failing, he longed to return to Padua. However, he died en route in Arcella aged just 36. He was canonised in 1232 and that same year construction began on the Basilica of St. Anthony in Padua.
Turin
Situated in Northern Italy lies the city of Turin. During our stay in Turin we will visit the Basilica of Mary Help of Christians. It was built between 1864 and 1868, after St. John Bosco had a vision of the Virgin Mary. In this vision She revealed the martyrdom of St. Adventor Solutor and St. Octavius. Today the Basilica houses the remains of St. John Bosco, St. Dominic Savio as well as over 6000 other relics. We will also visit the Church of Corpus Domini, the site of a Eucharistic Miralce. Located in Turin also lies the Cathedral of St. John. Here we will visit the Holy Shroud of Turin. This is believed to be the burial cloth of Jesus Christ. The Shroud bears an image of a crucified man. The Shroud is on display until the end of June 2015. In Becchi we will visit the birthplace of St. John Bosco while in Bobbio we will see the Shrine of St. Columbanus.
life-of-padre-pio | san-giovanni-rotondo |

DATES & PRICES IN SHRINES OF ITALY | ACCOMMODATION IN SHRINES OF ITALY